Hello All,
I have just spent a lovely week in England. While I was there, I took the opportunity to visit three great schools in the West Midlands. Of course, Patrick and Gilbert came with me!
On Friday 4th October, we visited Southfields Primary School in Coventry and had a fabulous time. The children made themselves into African grey parrots with lots of squawking and flapping and some of them drew pictures for us. Aren't they great?
Thank you for having us, Southfields. 😉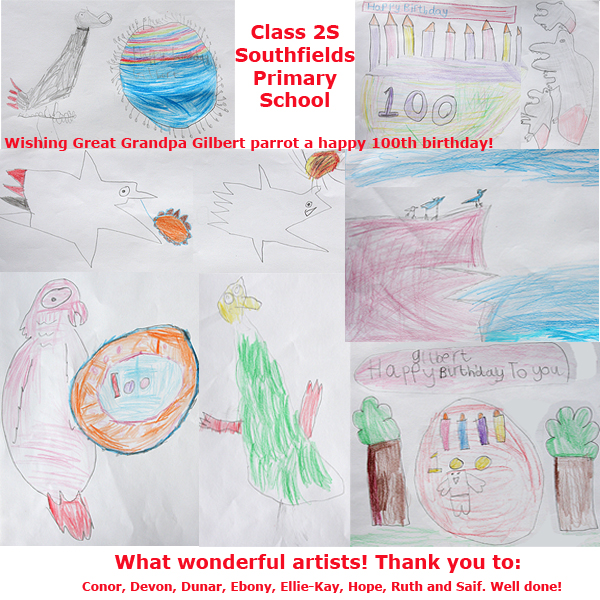 The pre-prep at the Croft School near Stratford-upon-Avon where I visited on Monday 7th October was lots of fun too. The children and teachers were very welcoming and they really enjoyed the story and helping with the sound effects! They all sang the Happy Birthday song for Gilbert and he joined in squawking loudly! Luckily the children sang so beautifully that you could hardly hear Gilbert at all!
Thank you for having us, Croft School.
Lots of 😉 Gail
Monday was a very busy day for Patrick, Gilbert and me! We also went to Stratford Primary School and met year 1,2, 3 and 4 children. We had a  great time and the younger children laughed a lot at Gilbert's singing! Patrick and Gilbert thought the Y3 and Y4 children knew a lot about animals and hope they told their families all about 'MIGRATION'.
Thank you for a lovely, fun-filled visit, Mrs Chatwin and everyone at Stratford Primary School.
Lots of 😉   Gail