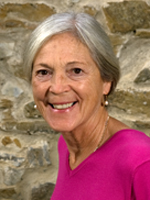 Hi and welcome to my website!
I'm Gail Clarke and I'd like you to meet my storybook friends:
Patrick, the African grey parrot,
Pilot and Skye, two young  Arctic terns,
Cosmos the curious whale, and
Chameleon.


All my storybook friends love traveling with me to see children all over the world. Together we visit schools where I read their stories and talk about animal migration. We all love making new friends and we hope to meet you at your school soon.
Our School Visits
Patrick, the clever and extraordinary African grey parrot, has been entertaining children since December 2010. His story Patrick's Birthday Message is about how he solves a tricky problem with the help of many of his animal friends.
Patrick has already met over 17000 children in schools all over the world.  Some parrots would find that exhausting, but not Patrick! He's always excited about making new friends. Pilot and Skye, the Arctic tern chicks teamed up with Patrick in November 2012, and in December 2013, Cosmos the curious whale also joined the team.
You can see all the places we have visited by clicking on School Visits in the menu bar above.
*** RECENT NEWS!! ***
March 2015
I've just arrived in Bangkok to visit a number of new schools (Patrick is very excited) and after that, I'll be heading for a couple of schools in Rayong. More details very soon!
January/February 2015
We've recently been in Hong Kong once again and this time as well as Patrick, Gilbert and Cosmos, Jed the Hammerhead shark made his first appearance when I read the children his story in Sharks – Our Ocean Guardians, one of my two new books.  I also introduced my other new book, The Chameleon Who Couldn't Change Colour, to many of the Hong Kong students. Patrick was delighted to have so many on his friends join him.
December 2014
The gang and I returned to Bangkok to meet some old friend and to make many new ones. (Patrick really likes Bangkok). There will be details in the Posts.
October 2014
We're just back from a fabulous UK tour where Patrick, Gilbert, Cosmos and I made a return visit to The Croft School in Warwickshire. Cosmos taught the 'Little Crofters' some of his cool whale-y moves: 'breaching' 'diving' and 'spy-hopping' and we all had a great time. Then it was on to Kent where we were welcomed enthusiastically by Dulwich Prep School, Goudhurst and Kilndown Primary School, Claremont Primary School and Tenterden Primary School. We had a blast! For more details see my school visits page.
*** Kindle versions of my books now available!! ***
Four of my books are now available from Amazon as both paperbacks and as eBooks for the Kindle. The Kindle versions have been entirely reformatted in portrait mode to make them easy to read on any type of Kindle and on the Kindle Reader App available free from Amazon for all tablets (iPad etc), smartphones and computers. Here are the covers for the Kindle versions.

If you read the books using the Kindle Reader App on any of the devices mentioned above, you will see the full, beautiful colours of all the illustrations that are in the original print versions. And the Kindle versions cost you less! They are also readable on an ordinary black and white Kindle, but you won't see the wonderful colours (Patrick is very proud of his red tail feathers!)
Every page is beautifully illustrated, really colourful and printed in easy-to-read text. Children will love reading the books by themselves or sharing them with an adult. All the stories are  based on the theme of animal migration and told in rhyme. They are packed with facts, making them great teaching aids for the classroom.
Here's what the Kindle versions look like on an iPad and an iPad mini.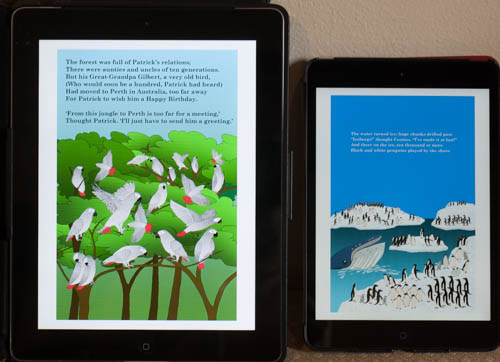 Just click on this link or any of the images of the covers to go to the purchase page.
Patrick's Birthday Message, Searching for Skye, Cosmos the Curious Whale and The Chameleon Who Couldn't Change Colour are also available to buy directly from Amazon's print-on-demand company CreateSpace.

*** MORE EXCITING NEWS!! ***
An Interview with Debbie Alvarez
While I was in Hong Kong in December, I was interviewed by Debbie Alvarez, the wonderful librarian at Bradbury School. Debbie runs a great blog called The Styling Librarian which is well worth a regular visit. Click on this link to see the full text of my interview, Debbie's comments about my visits (I've visited Bradbury School several times now) and a video of book reviews of Cosmos and Skye from Debbie's son.
Many thanks, Debbie!