Patrick the Parrot has been entertaining children from 4 to 11 years old with his story Patrick's Birthday Message since December 2010.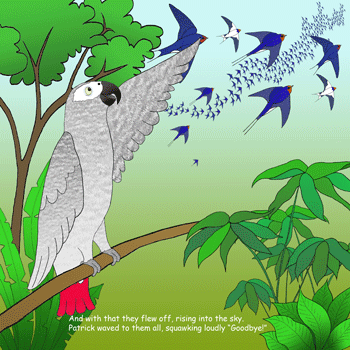 So far, Patrick has spoken to over 8500 children in schools in Hong Kong, Dubai, England, Kenya, Bangkok and Phuket. That's quite exhausting even for a young African grey parrot like Patrick! And he's not finished yet! You can read all about Patrick's school visits by clicking on the menu above.
And now Patrick has been joined on his school visits by Pilot and Skye, two young Arctic terns. So far, children in Hong Kong and Phuket have heard the Arctic tern story and loved it.
The school visits have produced some extremes, and some exhausting times for Patrick.
The largest group of children we have spoken to at one time was a hall of 450 children in Discovery Bay International School on Lantau Island, Hong Kong, while the smallest group was just nine children in the Mui Wo OWLS school, also in Hong Kong (and also on Lantau Island!)
The busiest day was in Dubai when Patrick and I talked to the eight groups of fifty children each in the Uptown School; eight sessions with almost no break in between them. We were both pretty squawked out by then!