WOW! Patrick, Cosmos and the crew have been very busy for the last two weeks!
It's been one Book Week after another with Phuket International Academy, British International School, Kajonkiet and Head Start.
We've all had a fabulous time with storytelling sessions, book signings, writing workshops and making lots of new friends.
Highlights of our Book Weeks were:
Morning tea with the library assistants from Year 5 at BIS. They were well prepared with some excellent 'questions for the author' 🙂
A special pre-order book signing arranged but the wonderful and oh-so-organised Miss Donna.
Lots of fun and games and fabulous photographs at PIA as well as a very warm reception for Cosmos the whale puppet. Thank you dynamic Diane Therien 🙂
Workshops and storytelling sessions at Kajonkiet, a hilarious drama session with the Year 5 and 6 students and the story writing competition. Many thanks and big whale-y smiles to Nicky and all the teachers.
Thank you to all the amazing staff, students and children who made the last two weeks such FUN!
Here are some photos from the BIS pre-sale.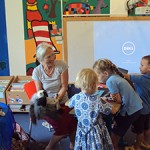 And these are from our storytelling session at PIA